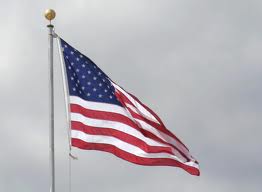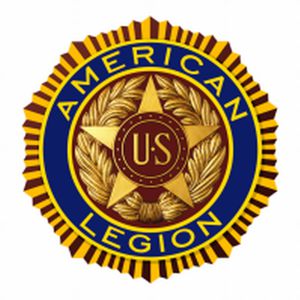 Upcoming District Conferences:
&nbsp
&nbsp
Spring Conference.
Fall Conference.
Year
Hosting Post
Dates
Hosting Post
Dates
2015
Cumberland Post 98
April 17,18,19
Menomonie Post 32
September 18,19,20
2016
Chetek Post 179
April 22,23,24
Brackett Post 550
September 23,24,25
2017
River Falls Post 121
April 7,8,9
Woodville Post 301
September 23
2018
Chippewa Falls Post 77
April 21
Ellsworth Post 204
September 22
The next Conference is in Woodville.
The District has released a suggested S.O.P on putting on a Conference.
Click HERE for a copy
Please get your list of deceased to Clif Sorenson
by September 1st to be included in the Memorial Service.
This will be a one day conference.
New Constitution and Bylaws should be ready.
The following Committee determines the validity of a Post's request to host
a District Conference. Please contact one of them to plan your next hosting effort.
Committee
Members
Contact Numbers
Time and Place
Cal Briggs(1)
1-715-672-4177
Larry Wrycza(2)
1-715-690-4020
Brian Flaskrud(3)
1-715-402-0106

DEC Conference
The next DEC Conference is Sunday, September 3rd, 2017 at
Chippewa Falls Legion Hall, 12 East Spring Street at 12:30 PM.

Upcoming State and National Conventions.
National Convention, August 18-24, 2017, Reno Nevada.
&nbsp

Blood Donor Schedule for the 10th District:
Blood Donor Chairman; Marlin Severson.
Menomonie Post #32 V.C. & Adjutant
Dunn County V.C. & Adjutant
3014 Wilson St., Lot #201
Menomonie, WI 54751
Ph: 715-308-6119
e-mail: judymarlin@charter.net
Place
Date
Time
Open
Open
Open
Any Post that has a Blood Drive going, please contact the Chairman
or the webmaster to have it listed here!

The 2017 District Oratorical Contest
was at Ettrick on Jan 7th
&nbsp

Some more Events coming up in 2017!
February 5th. Super Bowl LI in Houston TX
March 15th. American Legion Birthday.
March 25 and 26th. American Legion College Courses.
March 29th. Vietnam Veterans Day
April 22nd. Rivers Falls Post Award Banquet Night.
May 12 and 13th. Dept Committees and DEC Mtgs.
May 20th. Commander Seehafers Testimonial TBD.
May 29th. Memorial Day.
June 14th. U.S. Army Birthday.
June 8 to 11. The Rev's Run, Legacy Ride.
July 4th. Independence Day.
August 4th. U.S. Coast Guard Birthday.
September 4. Labor Day.
September 8th. U.S. Air Force Birthday.
October 13th. U.S. Navy Birthday.

Legion Riders Upcoming Events.
January 16th. Dist Riders Mtg at Vets Center in Menomonie at 1900 hrs.
February 20th. Dist Riders Mtg at Vets Center at 1900 hrs.
March 20th. Dist Riders Mtg at Vets Center at 1900 hrs.
Click HERE to read all about the upcoming Chilli Feed on
March 25th. Legion Riders Chili Cookoff is at the Menomonie Vets Center.
Here is a Flyer and Application to Participate
April 17th. Dist Riders Mtg at Vets Center at 1900 hrs.
May 15th. Dist Riders Mtg at Vets Center at 1900hrs.
June 19th. Dist Riders Mtg at Vets Center at 1900 hrs.
July 17th. Dist Riders Mtg at Vets Center at 1900 hrs.
August 21st. Dist Riders Mtg at Vets Center at 1900 hrs.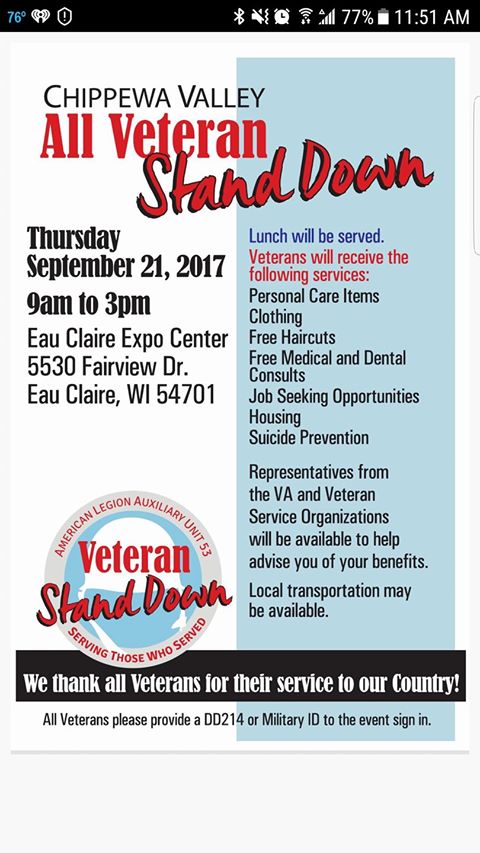 Lets all recognize the Auxiliary Unit of Eau Claire Post 53
and assist in any way possible. Please pass this on to
all veterans who may need help.









Veterans Still Serving America!