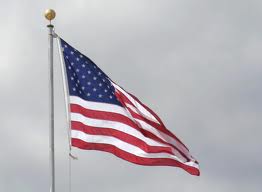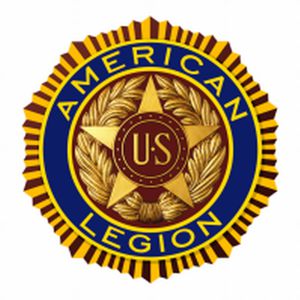 Upcoming District Conferences:
&nbsp
&nbsp
Spring Conference.
Fall Conference.
Year
Hosting Post
Dates
Hosting Post
Dates
2015
Cumberland Post 98
April 17,18,19
Menomonie Post 32
September 18,19,20
2016
Chetek Post 179
April 22,23,24
Brackett Post 550
September 23,24,25
2017
River Falls Post 121
April 7,8,9
Woodville Post 301
September 23
2018
Chippewa Falls Post 77
April 20,21,22
Ellsworth Post 204
September 22
2019
Osseo Post 324
April 5,6,7
Augusta Post 291
September 21 (Pend)
The last Conference in Ellsworth was well worth the trip.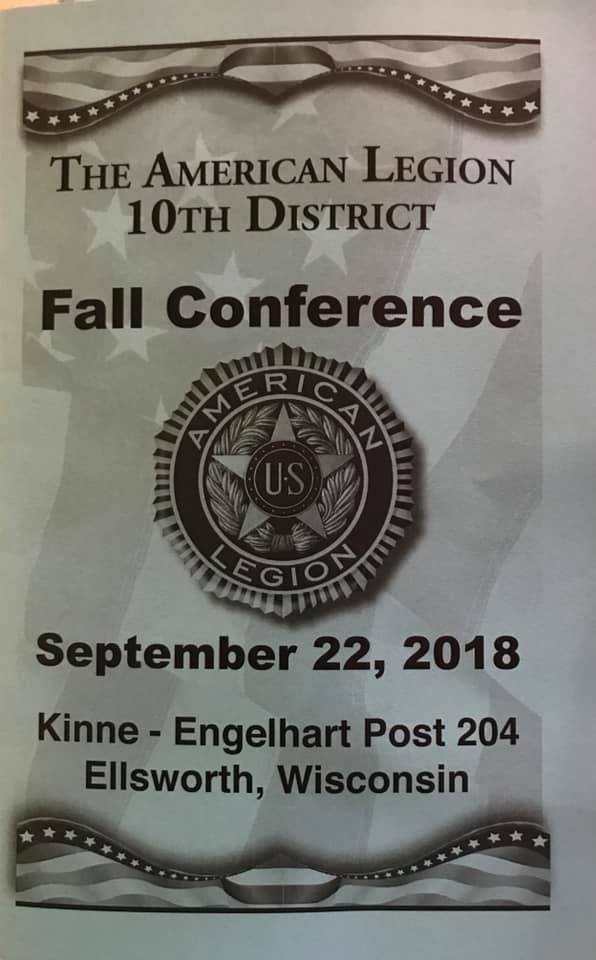 We were pleased with the attendance of
our Distigushed Dept Commander Frank Kostka.
The next Conference is in Osseo.
Please get your list of deceased to Clif Sorenson
by April 1st to be included in the Memorial Service. Please
include Branch of service and date of passing. This will be 2 day conference.
Click HERE for page 1 of the registration.
Click HERE for page 2 of the registration.
Click HERE to get a copy of the Ad Registration.
Click HERE to get a copy of he Klein Hall Van Poster
Click HERE for info on where to stay over night.
Click HERE for info on getting a Table Sponsor.
Click HERE to see some pictures of the past conferences.
***********************************************************************
The following Committee determines the validity of a Post's request to host
a District Conference. Please contact one of them to plan your next hosting effort.
Committee
Members
Contact Numbers
Time and Place
Cal Briggs(1)
1-715-690-4020
Larry Wrycza(2)
1-715-402-0106
Brian Flaskrud(3)
TBA

Wisconsin American Legion College (WALC).
River Falls Post 121 will sponsor the Basic, Intermediate,
and Advanced Courses on June 21 - 23, 2019.
Go here for Online Registration
Here are the individual forms to mail in.
Here are some pictures of those that attended
the last session.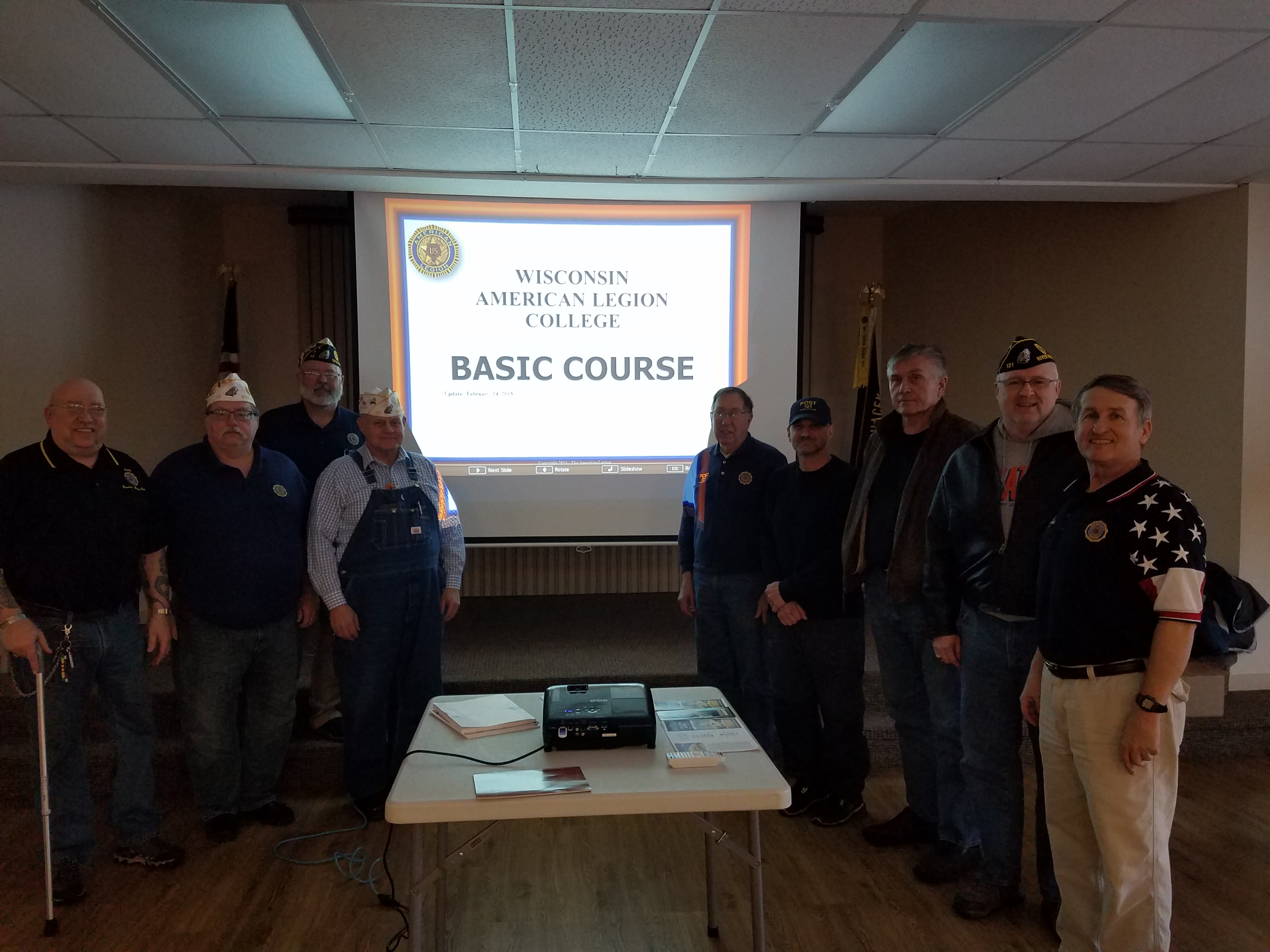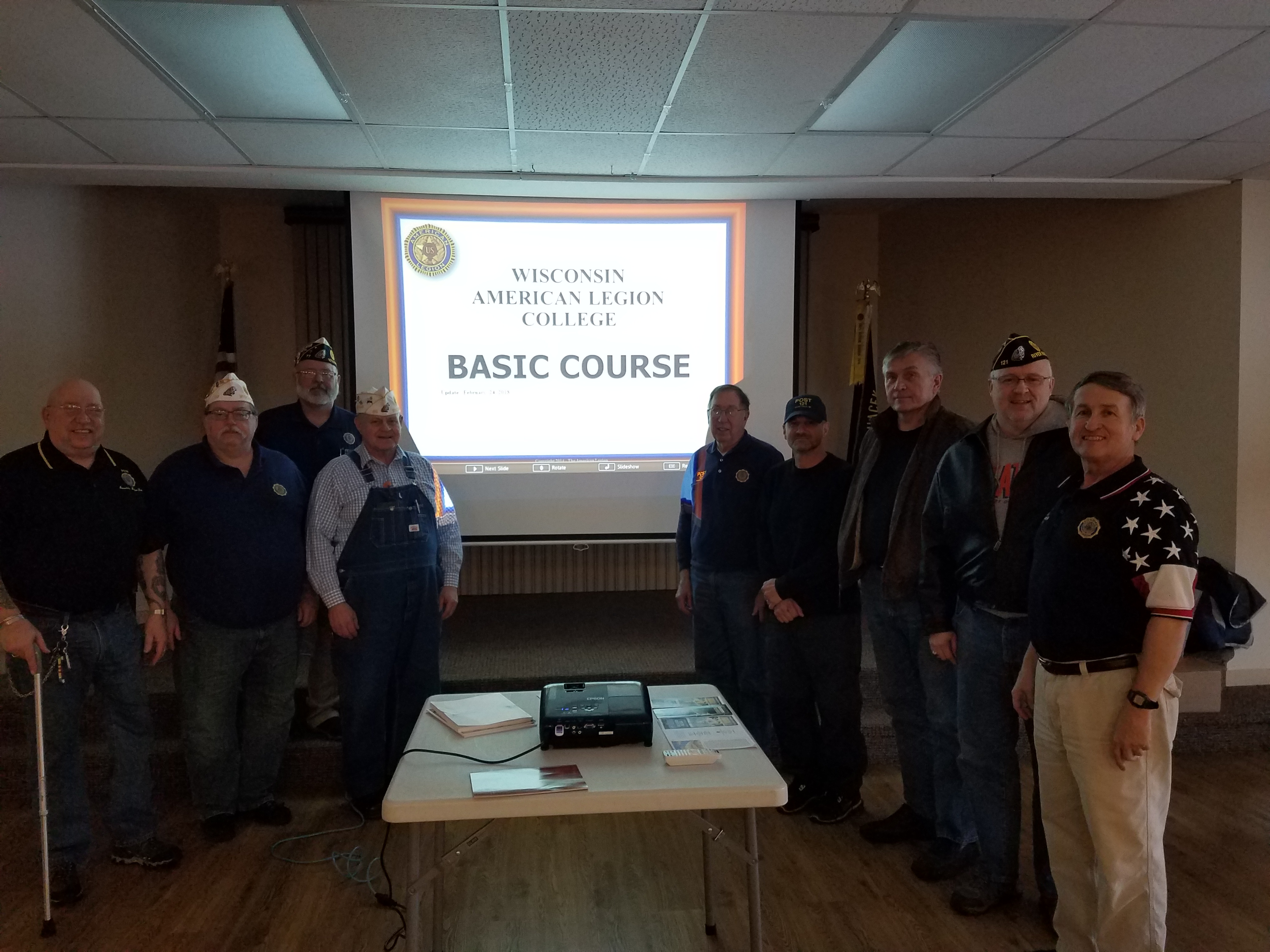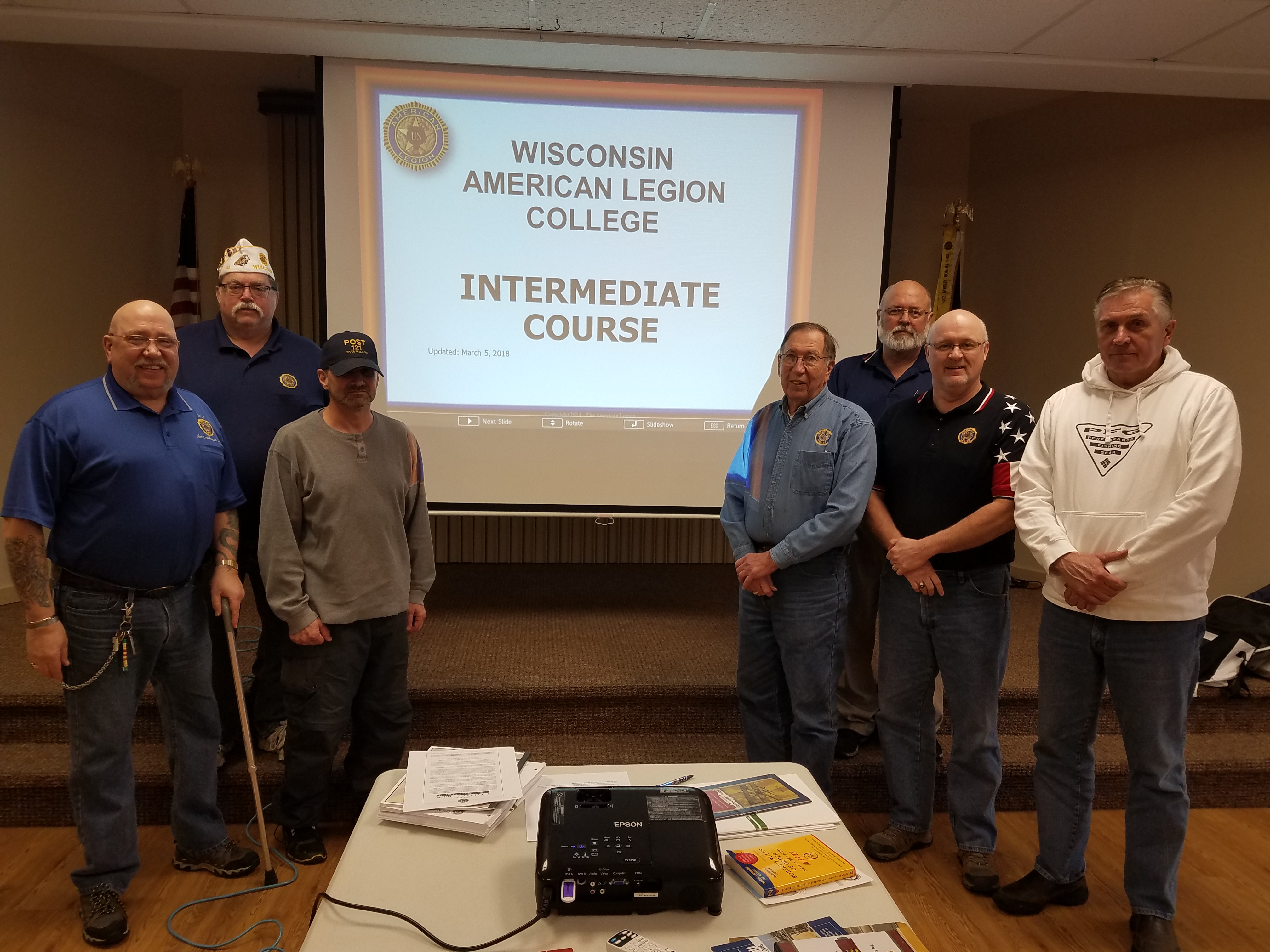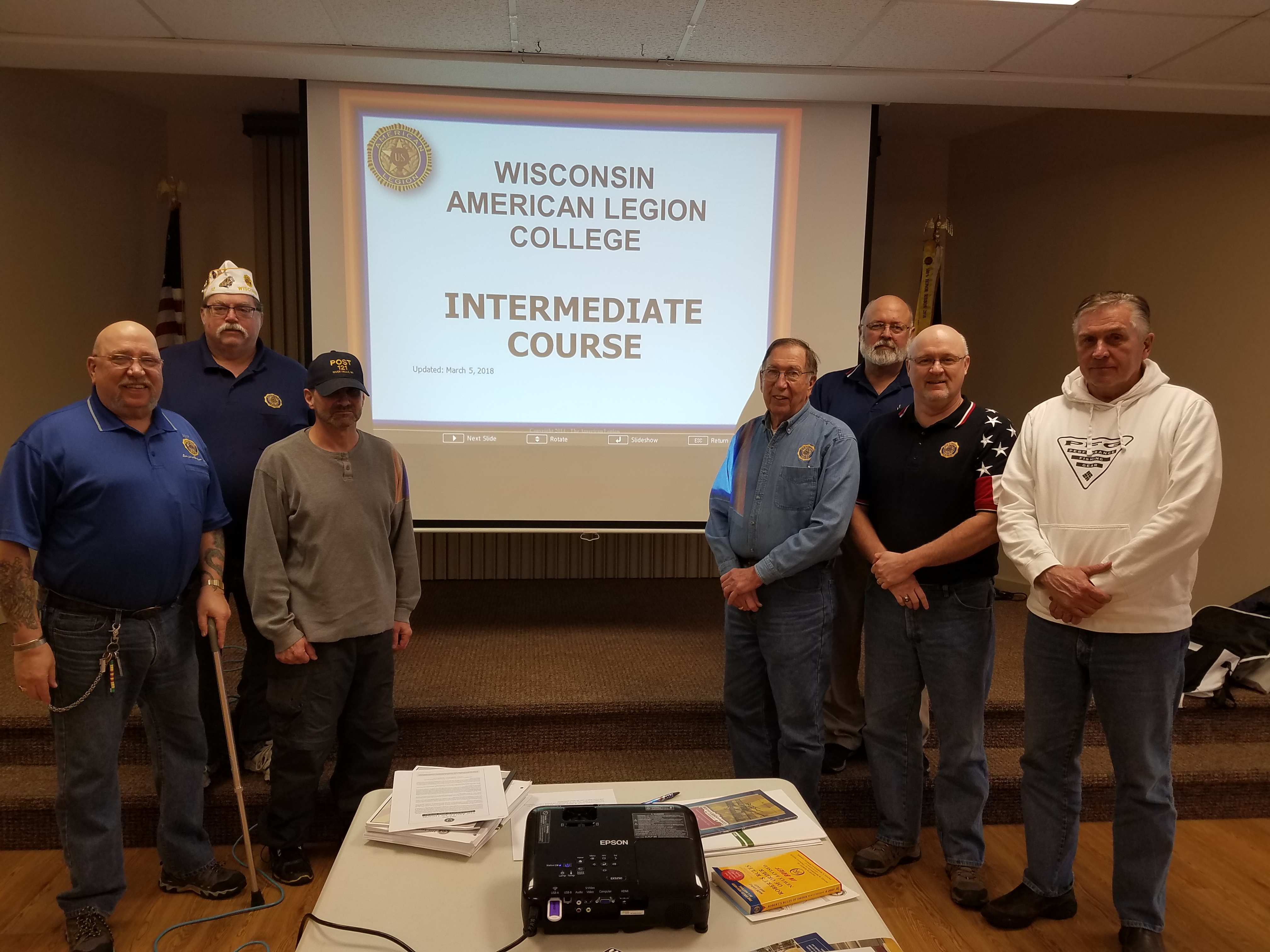 The 2018 District Oratorical Contest
This was held on Jan 13th, 2019 at Osseo.
Pictured below are the two speakers we had
Winner was Dana Craig, second from right, and runner up was
Marshall Nelson, far left. Dana will now go to Ripon Collage
to compete withe the other Districts.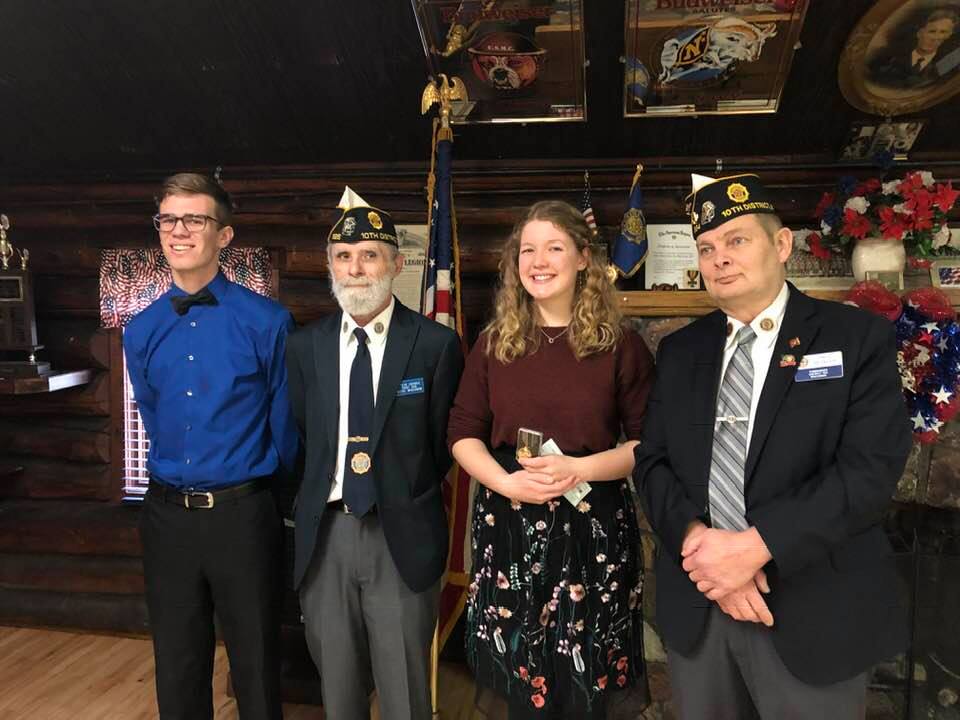 There was a 3 hour DEC Conference afterwards!
We covered a lot of information!

State and National Conventions.
MidWinter Conference, Jan 17-20, 2019 Wisconsin Dells Wi.
Go HERE for more information posted on Facebook.
National Conventions
2019, Aug 23 - 29 Indianapolis, IN
2020, Aug 28 - Sept 3 Louisville, KY
2021, Aug 27 - Sept 2 Phoenix, AZ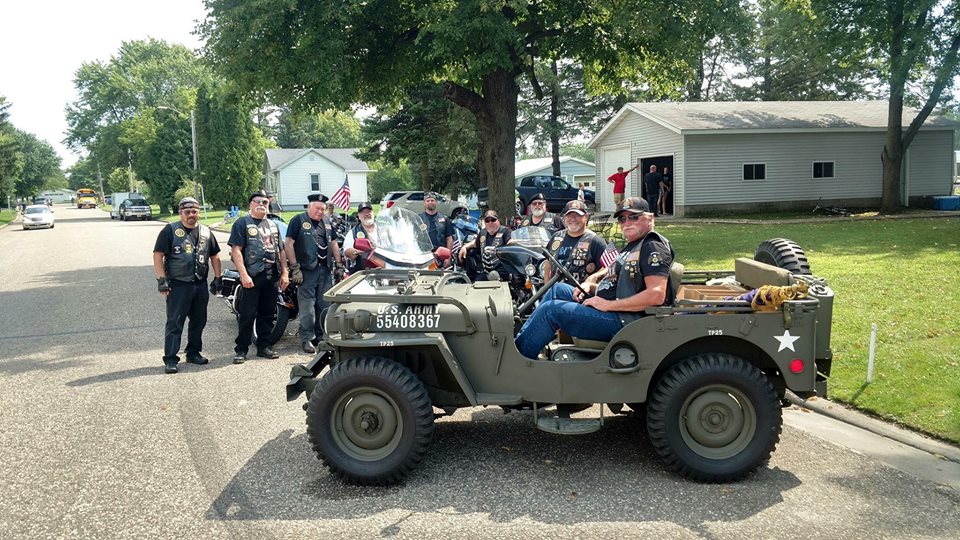 Here are the District 10 Legion Riders.
Click for our Facebook Page.
Here is a letter from a member of the Balwin Post.
of an event we should all consider.
It's the "Remembering Our Fallen National Memorial"
July 12,13,14. Click HERE
for a complete copy of this letter
from Brant Moegenburg for all the details.
Click HERE for a copy of the Brochure.
Coming up in March is our next Chili Cook Off.This will
be held at the Menomonie Veterans Center. Click HERE for the Flyer
Print THIS for the entry form

Blood Donor Schedule for the 10th District:
Blood Donor Chairman; Marlin Severson.
Menomonie Post #32 V.C. & Adjutant
Dunn County V.C. & Adjutant
3014 Wilson St., Lot #201
Menomonie, WI 54751
Ph: 715-308-6119
e-mail: judymarlin@charter.net
Place
Date
Time
Open
Open
Open
Any Post that has a Blood Drive going, please contact the Chairman
or the webmaster to have it listed here!









Veterans Still Serving America!